OUR FIGHT TOO
I WANT you to use your imagination.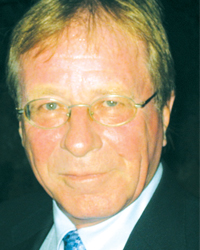 Picture the scene. A group of UK civil servants have just entered the Foreign and Commonwealth Office in Whitehall, just prior to Dominic Raab's recent visit to Cyprus. They have climbed the Grand Staircase, bedecked with images of Britain's imperial past, which were originally intended to put foreign dignitaries in their place before they ever got anywhere near the Foreign Secretary. The civil servants are heading for the "Cyprus desk", feeling a little uncomfortable with their imperialistic surroundings and still struggling to accept the fact that UK has left their beloved EU. They are to discuss the Foreign Secretary's pre-Cyprus visit briefing. "Get the file Julian, the one we always use, it's in the 1974 section."
"Got it already Rupert, it's a bit tatty from repeated use though."
Joking? Yes (a little), but I could easily not be. Foreign Secretary Raab has just returned to the UK, having listened to TRNC President Ersin Tatar making it clear that the UN's bizonal, bicommunal, federal Cyprus "solution" has failed for nearly 50 years and it is time to introduce new thinking on the matter, like the existing reality of two functioning Cyprus states on the island, for instance. Like the fact that Turkish Cypriots voted for the UN's Annan Plan and, more recently, made widespread concessions at the Crans-Montana Cyprus Conference. Like the fact their only reward for this positive approach has been further years of isolation and embargoes, whilst Greek Cypriot intransigence won them membership of the EU! Like the fact that such isolations unfairly impact on Turkish Cypriots AND thousands of TRNC-resident UK expatriates alike, seemingly endlessly. Finally, isn't it about time all this was noticed? What happened within days of Dominic Raab returning to UK? Raab's Foreign Office
No 2, Minister of State Lord Ahmad, announced (without a single blush) "The UK remains a strong supporter of a comprehensive, just and lasting settlement (yawn) of
the Cyprus issue" (wait for it), "based on the internationally accepted model of a
bizonal, bicommunal federation".
Incredible! How the hell, in the short time since Dominic Raab's Cyprus visit, could the UK Foreign Office have taken a single word Ersin Tatar uttered seriously into account? They couldn't. I've got news for Lord Ahmad. His "lasting settlement" has only lasted in terms of endless failure and endless isolation for North Cyprus.
Not to be outdone, two Labour shadow ministers got in on the act. Their interpretation of a balanced approach to the Cyprus issue is to accuse Dominic Raab of "violating" UK policy on North Cyprus. Pardon? Of what great crime is Dominic guilty of? He met with Ersin Tatar! Shock! Horror! (He's not head of the Klu Klux Klan for goodness sake!). They described the meeting as "particularly worrying". It gets worse. They spoke of "considerable anxiety" among the "British Cypriot community in the UK" as a result. What? Don't they mean the British Greek Cypriot community? Don't they know there are hundreds of thousands of British Turkish Cypriots in London alone? (Obviously not.) I doubt there is much concern in the coffee shops of Enfield, Tottenham or the Elephant and Castle, for example (if they were open).
These two apparently blinkered Labour swallowers of Greek Cypriot propaganda reportedly accused Dominic Raab of "considering breaking from the long-standing position of successive UK governments". I should hope so. That is exactly what is required to have any chance of breaking the endless Cyprus stalemate. Perhaps the first Foreign Office ear Dominic Raab should whisper into is Lord Ahmad's (he can deal with his Julians and Ruperts later. I suspect our two Labour friends are a lost cause).
What has the TRNC done to deserve such vilification? It is a democratic, religiously
tolerant, secular state. It shines like a beacon of tolerance and peace when compared to some of its neighbours in the Middle East. In the way it is diplomatically treated, you would never guess so. Tyrannical regimes are treated better. It's a disgrace.
Of course, not all Turkish Cypriots believe in a "two-state" Cyprus solution. The Republican Turkish Party (CTP) doesn't, for instance. Their chairman, Tufan Erhürman only said last week "deadlock is not a solution" and "the island is too small to be divided" as he opposed the two states option. I have no doubt that his views are honourably held. The problem is, as I see it, "deadlock" is precisely what we have NOW and have had for 47 years. Surely, somebody needs to break the endless cycle of failure without Turkish Cypriots compromising themselves out of existence in the process.
We expatriates shouldn't step aside from all this. What Turkish Cypriots suffer, we suffer too. Trade embargoes, no direct flights, resultant higher prices than necessary and a feeling we don't exist. Well – we do. The TRNC is all around us. It exists. We pay taxes to it, we get our residency, work permits, title deeds and Covid vaccines from it.
It collects our rubbish, provides our water and electricity. Its police keep us safe and its hospitals keep us well. Oh yes, not always perfectly, but you could say that of anywhere else, including the UK.
Let's ALL help break the Cyprus mould. Two Cyprus states is the reality AND the answer. If you have a UK address, email your Westminster MP and tell him so.
If you don't know who he/she is, you can find out by visiting the House of Commons
(UK) website and putting your UK postcode in. Your MP's contact details will be available. If you are already registered to vote, fine, your MP is more likely to listen to you, but that doesn't excuse those who are not. They can write to the MP representing their last UK address. Use messages contained in this article to set out your case. Demand direct flights and an end to TRNC isolation. Remind the UK it is a "Guarantor Power" and responsible for treating both communities equally on this island. Don't leave it to someone else. They might be leaving it to you. The pen can be mightier than the sword. Use it.