REALITY IS DAWNING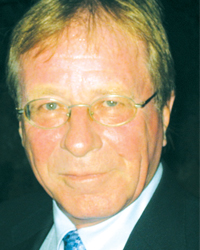 WHY is it that some people constantly search for a solution to a problem when it's staring them right in the face? It might be right in front of them, yet still they cannot see it. When the apparent blindness goes on for nearly 50 years, you begin to wonder if it is deliberate, especially when the eyesight of the guilty seems totally unimpaired in all other ways. Step forward the UN, constantly tripping up over the very Cyprus solution they claim to be searching for. If it got up and smacked them right in the face, would they still refuse to see it? We are in the process of finding out. President Ersin Tatar's Geneva-delivered "two state solution" for Cyprus, explained in a detailed and moderate six-point plan, did just that. "Smack, bang and wallop," there's the answer, staring you right in the face.
The Greek Cypriots rejected it immediately. No great surprise there. They historically reject any proposal that threatens their internationally recognised monopoly of Cyprus's sovereignty. That's why the UN (and the Turkish Cypriots especially) are stuck in a repetitive time warp. The GCs have NO incentive to compromise. The status quo suits them perfectly. An embargoed, isolated TRNC is fine by them. An equal Turkish Cypriot state, even within a "bicommunal, bizonal, UN-sponsored, federal Cyprus state" isn't. If the UN, EU, and UK all continue to back plans that treat the two Cyprus communities so unequally, who can blame the GCs for taking advantage of it? I don't. No wonder there is no "solution". Could these blindingly obvious truths be about to dawn at last?
For some, they have. Take former UK Secretary of State for Foreign Affairs Jack Straw, for instance. "Formal partition [of Cyprus] is the only solution," he says. He recognises the mistakes made by himself, the EU and UK, when after voting against the UN's (2004) "Annan Plan", the Greek Cypriots were still allowed into the EU and consequently used their new-found EU power of veto to frustrate every attempt to ease the isolation of the Turkish Cypriots. With the Greek Cypriots AND Greece in the EU, the Turkish Cypriots have as much chance of help coming from a Brussels direction as I have of winning the Euro lottery. In other words – none at all.
So what of the UK? Well, as a Cyprus "guarantor" power, we have hardly covered ourselves in glory, have we? As evidenced by Jack Straw's very honest assessment of UK's past shortcomings, however, there are glimmers of UK light emerging, not least Jack Straw's support for a two-state solution. In December 2019, Boris Johnson said the isolation of Turkish Cypriots is "unfair and unjust". That was a start. Then we have Sir Iain Duncan Smith's increasingly vocal support for Turkish Cypriot rights and, in particular, direct flights between the UK and the TRNC. He also met President Tatar on his last visit to London. Such voices as Iain's are influential and desperately needed.
Then we had the recent visit to Cyprus of the current UK Foreign Secretary Dominic Raab. He met both Cyprus leaders, as you would expect, but his talks with President Tatar appeared friendly, relaxed and constructive. When confronted with a "two states" option and recognition of the North, he apparently didn't reject it outright. He reportedly promised President Tatar that "all options were being considered" by his Foreign Office officials. This appeared to be confirmed when the political editor of the Sunday Express recently quoted "Whitehall sources", saying that "officially recognising north Cyprus as an independent country" WAS being considered. At the recent Geneva talks, this option was NOT put forward by Dominic Raab, but there was a distinct and significant change in the tone of UK language. For example -
"Greek Cypriots and Turkish Cypriots should mutually RECOGNISE each other's existence". I somehow suspect he might have trouble getting the Greek Cypriots to even agree to that very limited suggestion, despite going on to say "north Cyprus should be regarded as part of the EU but not have international recognition" (my advice to Turkish Cypriots is to keep as far away from the EU as you possibly can – they are no friend of yours). Even limited recognition of a Turkish Cypriot state within Cyprus and the EU would be too much for the GCs. It always has been and it always will be, mark my words.
Having said all that, Dominic Raab's inevitably doomed suggestion is a significant change in UK attitude. His statement appears to point the finger directly at the Greek Cypriots, without saying so (all very diplomatic). The Turkish Cypriots already accept the existence of a purely Greek Cypriot state in the south, they have no wish to deny it to them. The same cannot be said of the South's attitude to the Turkish Cypriots. Raab knows this. It might even be dawning on the UN. If not, it soon will be.
The truth is that President Tatar has put the "two states" option firmly on the UN table. He won't take it off. The only way to get the Greek Cypriots to take any sort of serious notice would be for the UN (and particularly the UK) to threaten the Greek Cypriots with agreeing to recognition of the TRNC if their constant rejection of UN initiatives persists. The GCs would wet themselves and it's about time they did.
There ARE two states in Cyprus. They BOTH exist. Since partition, we have HAD the "peace" that the UN is still blindingly searching for, when it already exists. Partition was, and is, the only viable solution. It works. No war, no forced population displacements, no genocide, no communal strife. Two states living as neighbours, sharing an island in peace. That's what we have. All that is required is for the UN to recognise the fact and move on. It is as simple as that.
The UK holds the key to all this. President Tatar knows it. Perhaps the British are, at last, realising it too. If anybody can convince them, it is Ersin Tatar. Change is already with us, thanks to him. Reality is dawning.