Simply the best…or not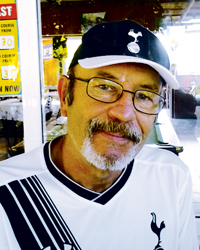 PELE, Puskas, Charles, Mathews, Finney, Di Stefano, Garrincha, Charlton, Cruyff, Zidane, Ronaldo, Christiano Ronaldo, Messi, or Maradona – who is the greatest of all time? This question came up many times last week after the death of Diego Maradona, with the split being roughly 50-50 on Pele and the Argentinian. Maradona was unquestionably a fantastic player but, as is the case with so many sporting gods, he was also flawed; his drug usage was well documented, as were his dalliances with the mafia whilst playing for Napoli, not to mention a certain act while playing against England that made him a Scottish national hero.
I was one of the 30,000 or so fans who made their way to the lane in May 1986 for Ossie Ardiles' testimonial and to see him in the flesh wearing that glorious lilywhite Hummel shirt against Inter Milan was to be a witness to greatness personified; even his warm-up routine was a joy to watch. The only players from the above list that I've seen live are Bobby Charlton, Christiano Ronaldo, Johan Cruyff and Maradona. For me Maradona was at least on a par with the great Dutchman and streets ahead of CR7 who, while a marvellous player who is undoubtedly one of the modern greats, still hasn't quite got the "it" factor that defines the truly great footballer. There is one other player who I saw live many times and who should be considered as a true great and that is George Best, whose one misfortune is that he played for a national team that were never in with a chance in international competition despite having two world class players in their ranks. (The other was a certain goalkeeper.) What separates Maradona from Cruyff is that he seemingly single-handedly (pun intended) won a World Cup scoring the alleged "goal of the century" along the way. For what it's worth I think his goal against Belgium was far better than his second against England. So my top three: Maradona, Cruyff, Best; there's not a lot in it between them and had I seen the others live I may well have had a different opinion. Taking live out of the equation then Pele comes into the conversation, as would quite obviously Messi and Garrincha who my dad reckoned was even better than the great man.
He who pays the piper
Liverpool manager Jürgen Klopp is making a bit of a twit of himself recently with his continuous ranting over the fixture list. He should, as Jose Mourinho said, just keep quiet and get on with it. If he doesn't like how the TV schedule affects the fixture list then he should tell his clubs owners to hand back a few million quid, but then how would he be able to afford world record prices for goalkeepers and centre backs?
Pot meet kettle
"The short-termism and self-interest the club owners have shown over the years excludes them from making decisions on behalf of the wider football family" so said the instigator behind an MPs' debate called "The future for football governance". They really can't help themselves, can they? I would have thought that the phrase "short-termism and self-interest" perfectly describes the feckless and useless rabble that seek to govern us but what do I know? What I do know is that the club owners are indeed looking to protect their fiefdoms and the same can be said for the politicians who are currently leading the country to wrack and ruin. Indeed I would venture that if they swapped roles the country would be far better off while footie would be toast.
Speaking of which
So now we know: the politicos and their unaccountable scientists have decreed that, with three notable exceptions, 99 per cent of England is in either tier two or three Covid-19 restrictions. In sporting terms that, in theory, means that some clubs can enjoy the financial windfall that 2,000 fans through the gate will bring (I'm being sarcastic) but many more clubs will continue to play behind closed doors. As for tier one the three "notable exceptions" are Cornwall, the Isle of Wight, and the Isles of Scilly, none of which the last time I looked host EFL or Premier League clubs. These people are really starting to get on my wick.
The natives are restless
It wasn't supposed to be this way – when the season started Celtic fans were fully expectant that Neil Lennon would lead the Bhoys to their 10th successive title, but with a quarter of the season gone their hopes would appear to have been dashed somewhat. Trailing Rangers by 11 points in the league, albeit with two games in hand, is bad enough but add in yet another embarrassing European sojourn then it was no wonder that fans of the club were showing signs of discontent.
Then came last weekend's home loss to Ross County in the Scottish League Cup, which saw their amazing run of successive domestic cup wins end at 35, a result which the locals didn't take too well. We're used to seeing foreign fans turning on their players but I have to say I can't ever recall fans of any UK team congregating on mass in the club car park and giving the team such pelters that they needed a police escort to get out of Paradise in one piece. The club quite rightly condemned the fans' behaviour but I can't help thinking that will only stoke the fires even further.
Numbers of the week
8-14-14-1: one year ago eighth-placed Arsenal appointed young gun and Pep Guardiola apprentice Mikel Arteta to replace Unai Emery; as of last weekend Arteta has the Gooners in 14th place. Just over a year ago 14th-placed Spurs appointed past-it dinosaur Jose Mourinho to replace Mauricio Pochettino; as of last weekend Mourinho has Spurs at the top of the table. Draw your own conclusions.
Team of the week
Illan Meslier Leeds, Reece James Chelsea, Thiago Silva Chelsea, Joe Rodon Spurs, Sergio Reguilon Spurs, Pascal Gross Brighton, Kevin De Bruyne Citeh, James Ward-Prowse Southampton, Bruno Fernandes United, Riyad Mahrez Citeh, Edinson Cavani United. Manager: Graham Potter, Brighton.
This week's games
Premier League today 5pm; Villa vs Newcastle, Brighton vs Southampton, Burnley vs Everton, Chelsea vs Leeds, Liverpool vs Wolves, Citeh vs Fulham, Sheffield United vs Leicester, Spurs vs Arsenal, West Brom vs Palace, West Ham vs United. Champions League Tuesday 10pm; Chelsea vs FK Krasnodar, Red Bull Leipzig vs United. Wednesday 7:55; FC Midtjyland vs Liverpool. 10pm; Citeh vs Marseilles. Europa League Thursday 7:55; Dundalk vs Arsenal, Lech Poznan vs Rangers. 10pm; Spurs vs Royal Antwerp, Celtic vs Lille, Leicester vs AEK Athens. Selected Scotland today 5pm; Motherwell vs Hibs. Tomorrow 2pm; Ross County vs Rangers. 5PM; Celtic vs St Johnstone. Stand-out games are Spurs vs Arsenal, Chelsea vs Leeds. Form goes out the window in the NLD so I wouldn't read too much into the result. The game at Stamford Bridge promises to be full of goals so 0-0 it is then.
F1
Sakhir Grand Prix tomorrow 7:10. With Lewis Hamilton absent after testing positive for you know what this has the potential to be an open and interesting race, hopefully without the sort of drama at the same venue last week.
And finally
Last week's question: what connects Gerry ----- ex-Palace, Andy ---- ex-Everton, Kevin ------ Boateng ex-Spurs, and ------ Alexander Obolensky ex-England rugby player? The connection is royalty: Gerry Queen, Andy King, Kevin Prince Boateng, and Prince Alexander Obolensky. This week: Vardon, Interlocking, and ten finger describe what in which sport?
We've all done it, "it" being walked into glass doors, and since the clocks went back I've noticed that the glass doors at one particular Lapta watering hole are getting some serious attention.
The stand-out moment was when a German customer managed to knock the door off its sliding track while thankfully avoiding a nasty injury. Leading one wag to exclaim: "Dunkirk, penalty shoot-outs, sun beds, now they're coming for our doors!"